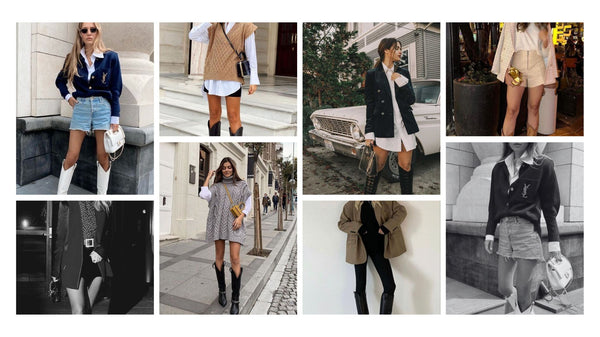 Stepping into Winter Fashion: Embrace Leather Boots for an Effortlessly Chic Look
As the air turns crisp and the leaves fall, it's time to update your wardrobe for the winter season. While cozy sweaters and stylish coats are essential components of your winter fashion arsenal, don't forget to invest in a pair of leather boots. Leather boots are not only timeless but also a versatile fashion statement that can elevate your winter outfits. In this blog, we'll explore the reasons why leather boots are a must-have for this winter's fashion trends and provide you with some styling tips to rock the look with confidence.
Durability and Comfort
Leather boots have always been synonymous with quality, durability, and comfort. When the weather turns colder and wetter, it's crucial to have footwear that can withstand the elements. Leather is known for its resistance to water and cold, making it the perfect material for winter boots. High-quality leather boots not only keep your feet dry but also provide warmth and comfort during chilly days. Unlike many other materials, leather ages beautifully, which means your boots will continue to look and feel great season after season.
Versatility
One of the greatest advantages of leather boots is their versatility. Whether you prefer a classic look or a trendy one, leather boots can adapt to various styles. They pair effortlessly with jeans, leggings, skirts, and dresses, making them a fantastic addition to any winter outfit. From casual to formal occasions, you can rely on leather boots to complete your look and add a touch of sophistication.
Styling Options
Here are some stylish ways to wear leather boots this winter:
a. Classic Elegance: For a timeless and elegant winter look, pair knee-high leather boots with a midi skirt and a cozy turtleneck sweater. This ensemble exudes sophistication and warmth, perfect for attending a winter party or a dinner date.
b. Casual Chic: Embrace the "off-duty model" style by teaming ankle boots with your favorite pair of skinny jeans and a chunky knit sweater. Add a statement belt and a beanie for a touch of street style.
c. Edgy Edge: To give your winter look a hint of rebellion, combine biker shorts with leather boots  a leather jacket. The result is a bold, edgy look that's perfect for a night out or a concert.
d. Bohemian Vibes: Create a boho winter ensemble by wearing a flowy maxi dress, a cozy cardigan, and slouchy leather boots. Don't forget to accessorize with layered jewelry and a wide-brimmed hat to complete the free-spirited look.
e. Monochromatic Magic: Experiment with a monochromatic outfit by matching your leather boots with pants or tights in the same color. A contrasting coat or jacket can add visual interest while maintaining a polished appearance.
Color Options
While black and brown leather boots are timeless classics, this winter season brings an array of color options to choose from.  Suede boots, red, and white are becoming increasingly popular. These colors not only add a pop of interest to your outfit but also match the wintery color palette beautifully.
Finishing Touch
When it comes to winter fashion, the devil is in the details. Accessorize your leather boots with cozy socks or leg warmers to keep your feet extra warm. 
Leather boots are an essential addition to your winter fashion arsenal for their durability, comfort, and unmatched versatility. With a variety of styling options, color choices, and the ability to complement various outfits, leather boots have earned their place in the winter fashion trends. So, step into winter with confidence, knowing that your leather boots will not only keep you warm but also help you make a stylish statement wherever you go.